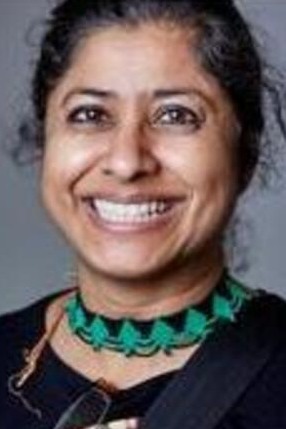 Vazira Fazila-Yacoobali Zamindar
Associate Professor of History
Areas of Expertise
South Asia
Vazira Fazila-Yacoobali Zamindar (vazirafyz) is a twentieth century historian, with an interest in decolonization, displacement, war, non-violence, the visual archive and contemporary art. Her book, The Long Partition and the Making of Modern South Asia: Refugees, Boundaries, Histories (Columbia University Press, 2007; Penguin India 2008; Mashal Books, Urdu edition, 2014) combines oral histories with archival research to examine the significance of refugees to nation-state formation in the devastating aftermath of 1947. Stories from the book have been performed by the Delhi-based Dastangoi (Dastaan-e-Partition), and the book has been an inspiration for Mara Ahmad's film A Thin Wall (2015), Shayma Sayid's dance Kanhaiya yaad hai kuch bhee hamari (South Bank Center, London, August 2017), the San Francisco Enacte Arts' play The Parting (2018) and Project Dastaan's animation Rest in Paper (2021). Her second book, The Ruin Archive: Art and War at the Ends of Empire, takes on archaeology, art history, photography, film and war on the northwest frontier of British India, on the borderlands with Afghanistan, and in 2020-21 she was visiting research fellow at the Collaborative Research Center for Affective Societies, Freie Universität Berlin, and the Vasl Artists Association in Karachi Pakistan. She is also working with a graphic novelist on Abdul Ghaffar Khan (Frontier Gandhi)'s friendship with Gandhi.
She directed the South Asian Studies Program at the Watson Institute from 2012-2016. Along with a South Asia lecture series, she co-organized Love, War and Other Longings, the Brown-Harvard Pakistani Film Festivals of 2014 and 2015, which is now a collection of essays on cinema in Pakistan (Oxford University Press, 2020), and ran an interdisciplinary reading group Theory from the South, which continued from 2018 to 2020 as Art History from the South. Two off-shoots of Art History from the South include a co-edited book with Tapati Guha-Thakurta entitled How Secular is Art? The Art of Art History in South Asia (Cambridge University Press, 2022) and a collaboration with Foad Torshizi (RISD) and Joshua Cohen (CUNY) on Art History, Postcolonialism and the Global Turn (Art Margins, 2022). She is also part of the Decolonial Collective on Migration of Objects and People.
In addition to public teach-ins, she has worked with Primary Source and the Choices program, FirstWorks Providence, the RISD Museum, as well as the Lahore Museum. She has appeared on Christopher Lydon's Open Source Radio and the BBC Radio series Museum of Lost Objects, and her articles have appeared in Hyperallergic, Third Text, Times of India, The News, Dawn, Time Out Delhi, Caravan, Current History and The Wire.