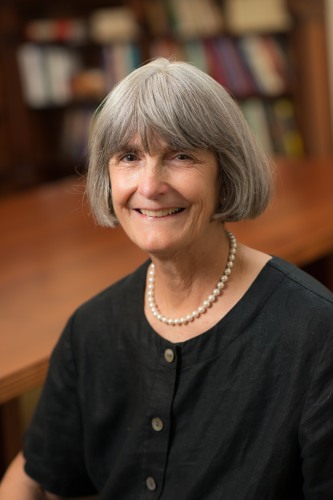 Rebecca W. S. More, Visiting Scholar, received her M.A. and Ph.D. from Brown in History. She directed the Harriet W. Sheridan Center for Teaching at Learning at Brown from 1992 until her retirement in 2010. She was Lecturer in History in the Division of Liberal Arts, Rhode Island School of Design from 1995-2014, teaching on gender and social history in Early Modern Europe. She currently works with senior History Honors students at Brown on their thesis presentations. 
Her current research focuses on the social, economic and cultural history of Early Modern England and Colonial America. Research projects include: establishing a virtual historical and design archive for Reed & Barton Silversmiths (1824-2015); the social and political significance of "virtue" in English church memorials (1450-1700); early 19th c. expeditions to explore Mount Washington, New Hampshire;  and an annotated edition of the Revolutionary War diary of a Loyalist Anglican minister.
Publications include "The Rewards of Virtue" (Ph.D dissertation); "The Settlement Maps of Early Lancaster New Hampshire: from Colonial Plantation to Republican Township" in Beyond the Notches: Stories of Place in New Hampshire's North Country (Monadnock Institute, Franklin Pierce University, 2011); editing and writing for the Sheridan Center's Teaching Exchange (1992-2010); the introduction to the 1989 edition of Horace Walpole's essay On Modern Gardening (1780), as well as book reviews. She has given lectures and published articles on New Hampshire history, including on John Wingate Weeks, sponsor of the 1911 Weeks Act, which established the National Forest Reserves. In 2013 she appeared in two films on the Weeks Act, "The People's Forest" (Moore-Huntley Productions) and "The Balancing Act," (US Forest Service and Plymouth State University). She also lectured on the history of gardening for the Garden Club of America from 1985-2014. 
Dr. More serves as trustee of the Weeks Medical Center (Lancaster NH), the New Hampshire Historical Society and the Taunton-South Shore Foundation. She is Chair of the Advisory Council of the Museum of the White Mountains Plymouth State University (Plymouth NH), and serves on the Fine Arts committee of the Museum of Art, Rhode Island School of Design. Past service includes the President's Council at Plymouth State University, the Outreach committee for the Society for the Protection of New Hampshire Forests (Concord NH), and the National Council at Strawbery Banke Museum (Portsmouth NH).